Summer may be over, but the sun is still shining, meaning there's plenty more opportunities to dip those paws in the ocean! And what better way to do that than by checking out some of the best dog-friendly beaches in and around Sydney?
If you're bored of visiting the same old beach with your doggo or have no clue on what beaches in the area are dog-friendly, then you've come to the right place!
Check out these awesome dog-friendly beaches in Greater Sydney for some fun weekend trips before the warm weather disappears…
Silver Beach – Dog Beach section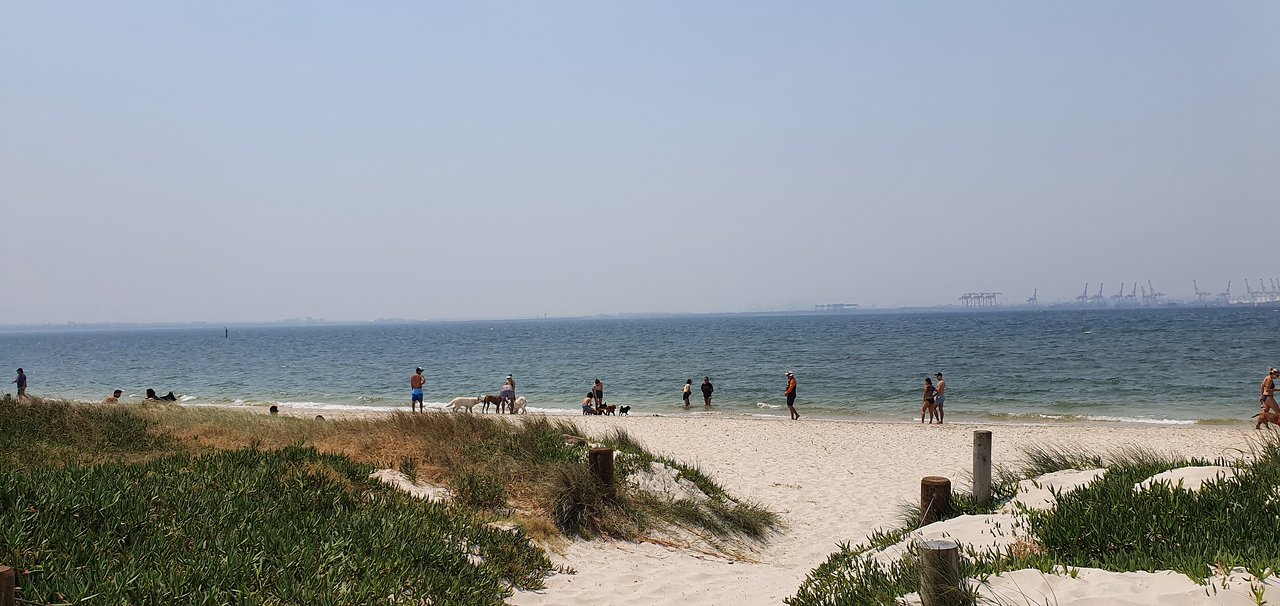 Silver Beach is a dog-friendly beach providing a fantastic weekend outing for your pup, with plenty of sandy area to run around non-stop and jump into the refreshing ocean water!
The off-leash area is between the 3rd and 4th groyne (the rocky walls) at the intersection of Ward Road and Prince Charles Parade.
"If you are looking for a quiet beach just for you and your dog, come before 4pm. After then and on weekend It's like a dog party. Plenty of dogs, socialisation and playtime." – Flyingstar
📍 Prince Charles Parade, Kurnell NSW 2231
North Shelly Beach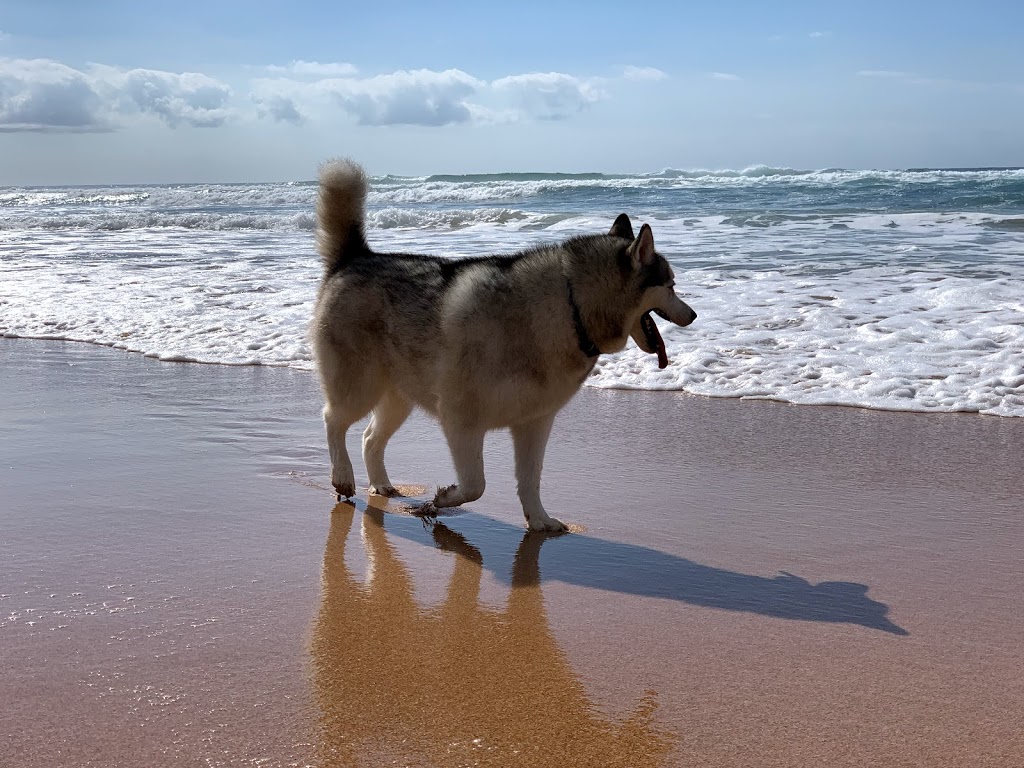 North Shelly Beach is your go-to dog beach if you're in the area!
It's perfect for your waggy-tailed furbaby, with lots of different areas for them to swim and explore. There's plenty of sandy coast to run around and explore, and there's usually plenty of other dogs visiting, too.
Just next to Toowoon Bay Beach which unfortunately doesn't allow dogs.  You can access the dog beach from a set of stairs going down between the caravan park and Swadling Car Park. There are also steep stairs in the middle of the dog beach, at the end of the road at North Shelly Reserve, or an easy pathway further down near Shelly Beach Surf Club, just next to the golf course (further south than this path is off limits to dogs).
📍 Toowoon Bay NSW 2261
Sirius Cove Reserve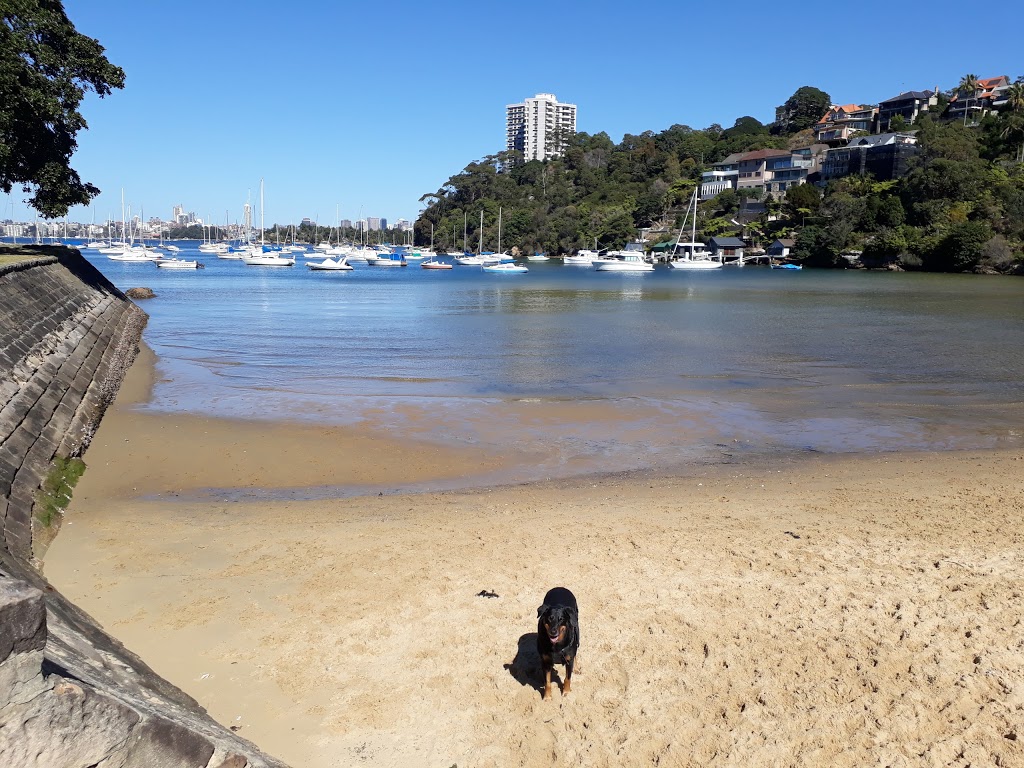 Looking for a quiet, hideaway beach for you and your dog?
Sirius Cove Reserve has a dog-friendly beach in the suburb of Mosman in Sydney's lower north shore. This quiet, relaxing spot not only has great waters for you and your dog to swim and play in, but also has a playground and a large picnic area to bring the family with, making it a lovely little family weekender!
Sirius Cove Reserve has its own parking area but street parking is also nearby.
📍 Sirius Cove Reserve, Sirius Cove Rd, Mosman NSW 2088
Greenhills Beach
Greenhills Beach is a lovely dog-friendly beach located north of Cronulla Beach and right next to Wanda Beach.
This beach is a very popular spot for families and their pooches, especially on sunny days!
Lots of parking is available in the area however, you'd want to get in quick before it fills up.
Dogs can run around off-leash at Greenhills Beach before 10am and after 4pm Mon-Sun, so this is the perfect beach for paw-rents wanting to take their doggo before or after work or trying to avoid the crazy beach-goers during the hotter days.
📍 Greenhills St, Kurnell NSW 2231
Horderns Beach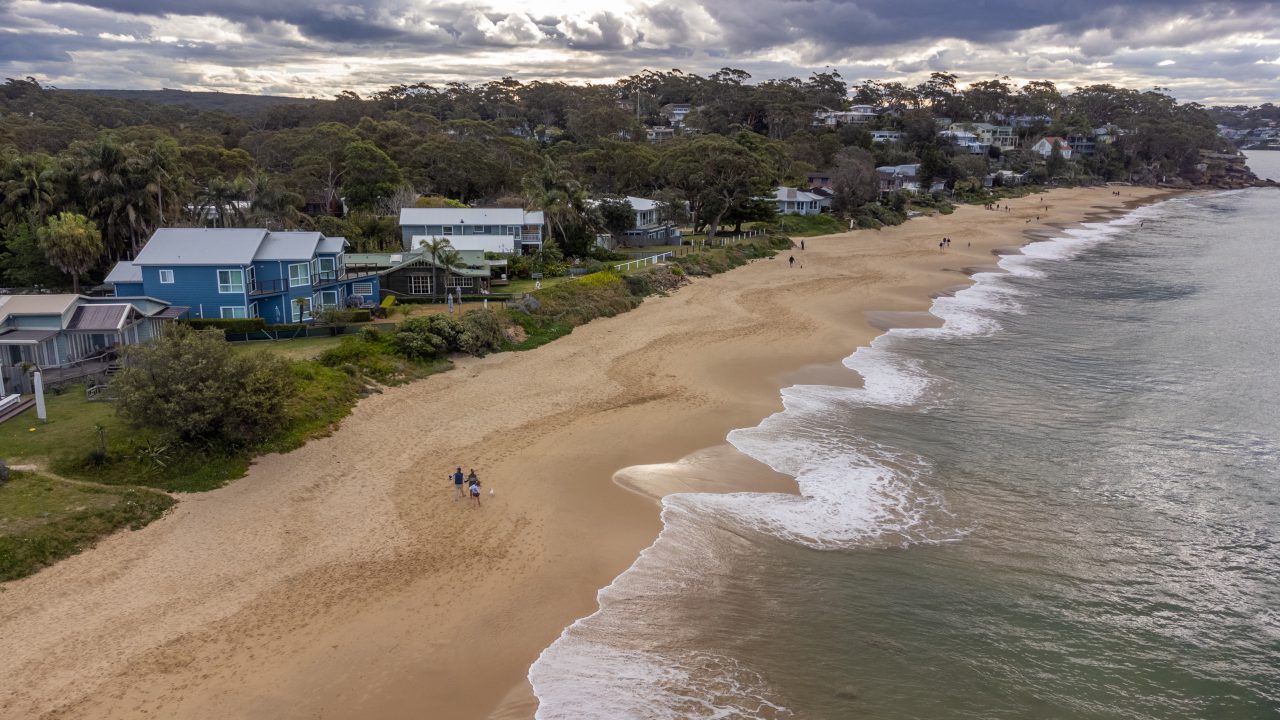 Horderns Beach located in Bundeena is a popular scenic strip that allows your pooch to be on and off-leash at certain times throughout the year.
If you want to beat the weekend crowd or have a fantastic scenic walk along the sea side with your fur family, Horderns Beach is the place to go!
Off-leash times are from September to April before 8:30am and after 4:30pm from Mon-Fri. Unfortunately dogs aren't allowed at the beach on Saturday or Sunday, except for between May to August, when dogs are allowed off leash on Horderns Beach 24/7.
📍 Horderns Beach, Bundeena NSW 2230
Flora and Ritchie Roberts Reserve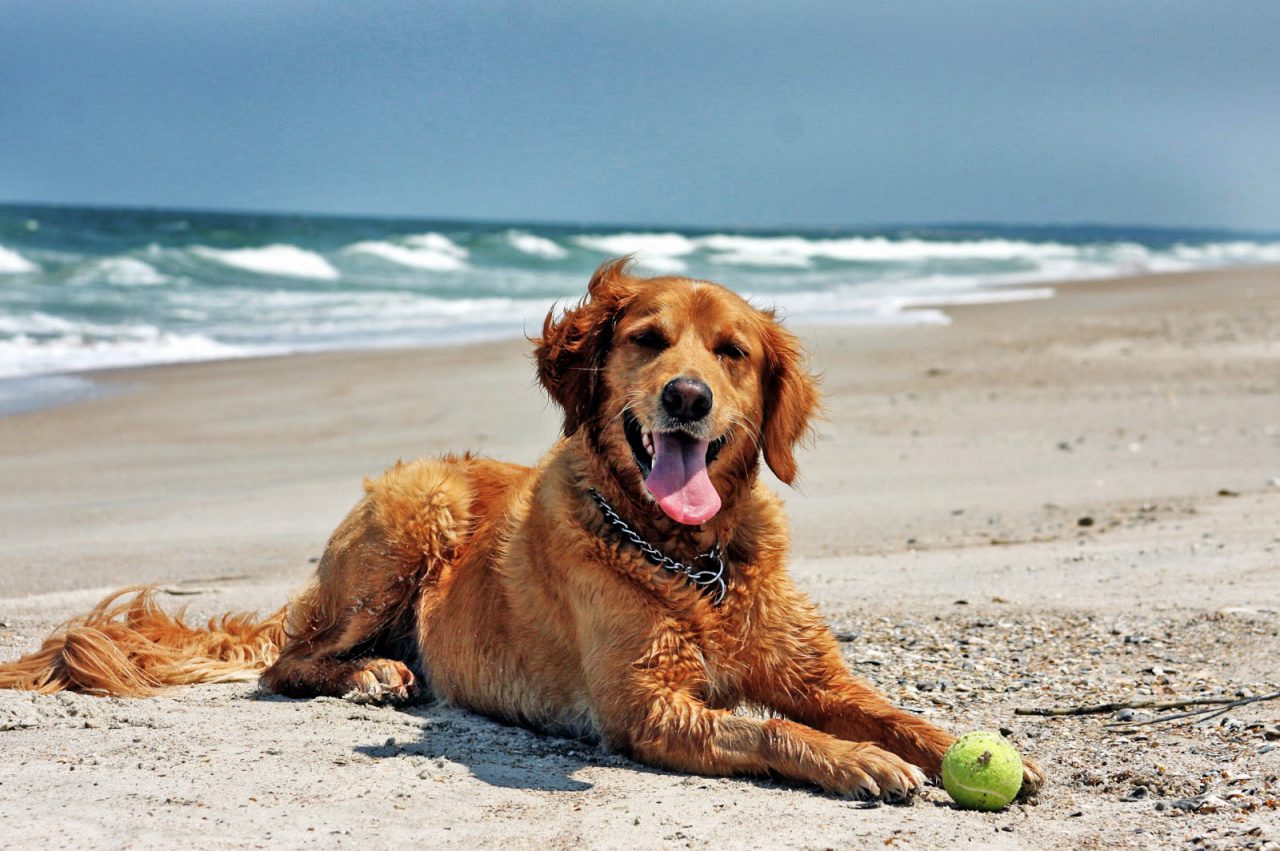 Looking for an exciting spot to take your doggy best friend to?
Flora and Ritchie Roberts Reserve in Curl Curl is a large and very popular 24/7 dog-friendly beach filled with grassy dunes and a natural lagoon! What active dog wouldn't love running around in the dunes and diving into the lagoon when you throw the ball in?!
Not only does this beach provide the freedom of being off-leash dog friendly all the time, but it also has great facilities, with waste bins for your dog poo bags, a drinking area, and public toilets close by.
📍 79 Carrington Parade, Curl Curl NSW 2096
Clifton Gardens Reserve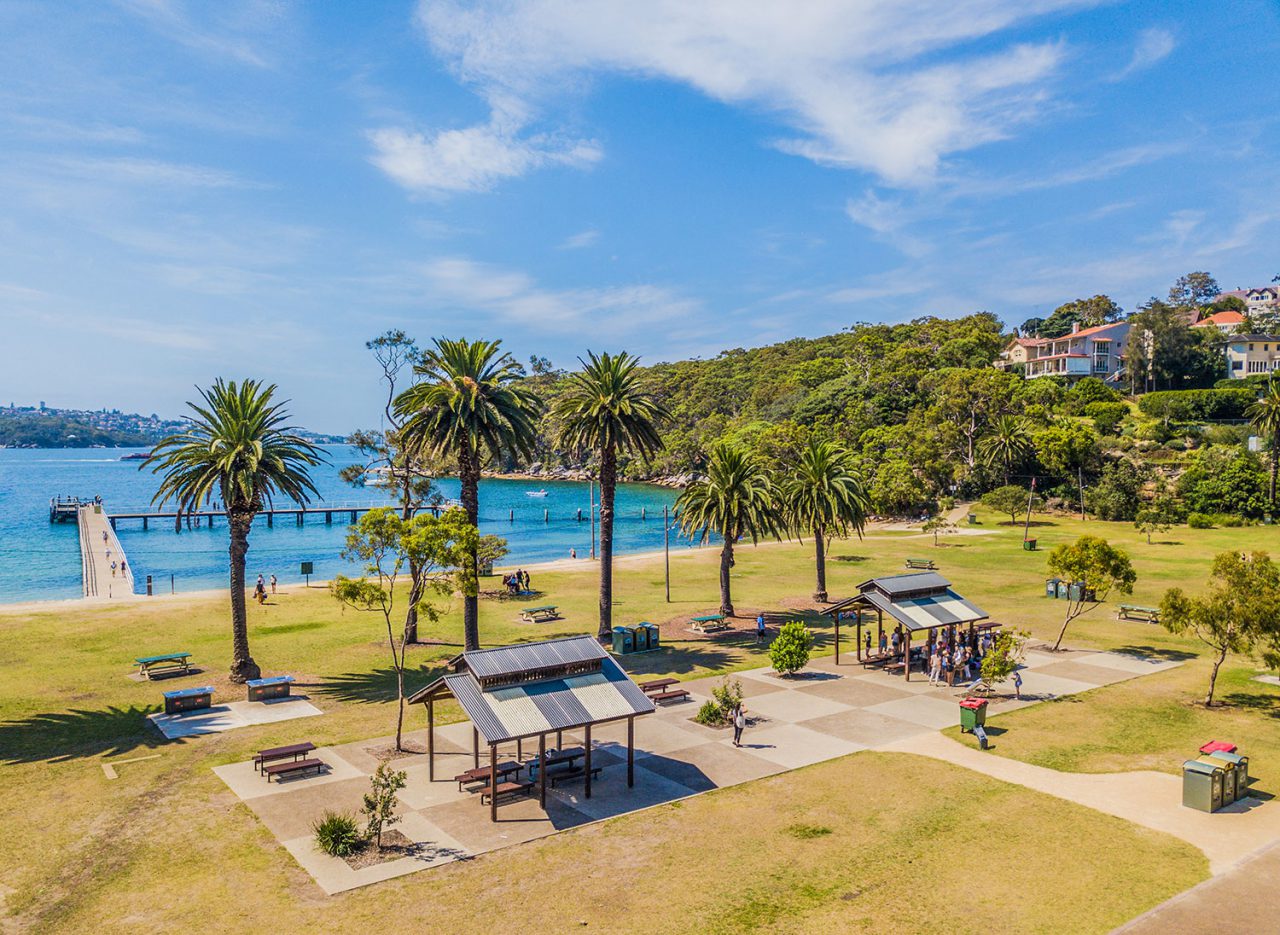 Clifton Gardens Reserve is a popular dog-friendly beach in Mosman.
Your pooch will absolutely love visiting this reserve, as the beach has plenty of different spaces to run off-leash, both in the park as well as on the beach and in the water!
Dogs can go off-leash and swim before 9am and after 4pm from April to September, and before 9am and after 6pm from October to May.
The park area is often a very popular family picnic area with major facilities such as a Kiosk and often ice cream vans, so it's a great place to bring your family or have a group doggy date with your besties!
📍 Morella Rd, Mosman NSW 2088
For more Dog-friendly locations…
Keen to make more of an adventure of your doggy day out? How about a road trip?!
Check out all the dog-friendly and off-leash places to visit around the Wollongong region!