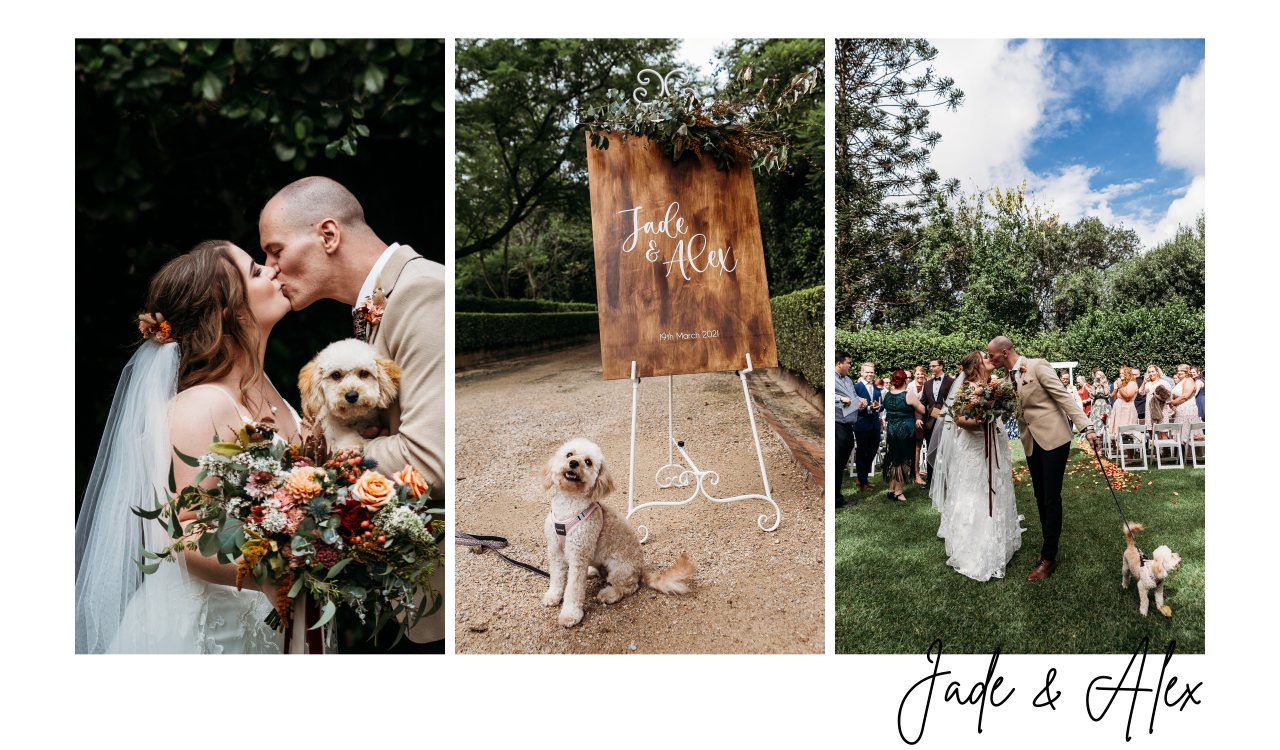 Friday, 19th March 2021
It's hard for me to communicate just how special Jade & Alex's day was.
Jade contacted us in September 2020 asking about getting their new Cavoodle pup, Peggy, involved in their big day the following March. Peggy was just 6 weeks at the time and hadn't even come home to her forever home with Jade & Alex yet! But this beautiful couple simply knew they couldn't bear to be wed without their newest family member (to come) by their side.
We locked everything in, and proceeded to work with Peggy weekly from when she was only roughly 12 weeks old. It's safe to say that our entire Team fell in love with her adorable charm and loving nature. We provided regular Pet Sitting sessions for Peggy while Jade & Alex were busy with work, until she was old enough to start socialising and joining us on group outings – which is when the real fun started!
All the extra time, energy and focus that Jade & Alex had committed to Peggy paid off greatly when their big day rolled around, and she truly stole the show.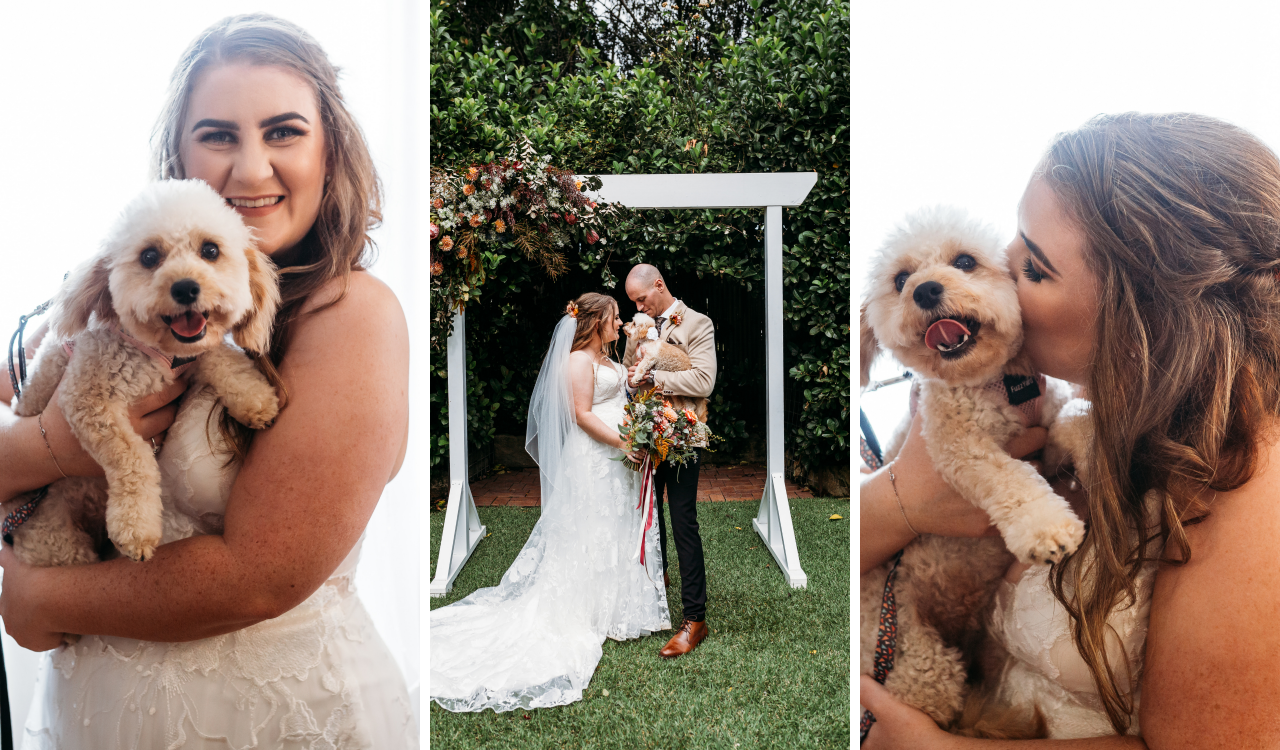 As she entered the Secret Garden of Burnham Grove Estate to make her way down the aisle with Jade's brother Daniel, she was a little overwhelmed by all the gushing faces in front of her. Though it only took one eager look at Dad Alex at the other end of the aisle for her to work up the courage to make her way down.
Jade & Alex's Ceremony was so full of love and laughs. Back when I used to work in the Weddings industry, I witnessed a lot of Weddings that just felt like they were lacking… something. Sincerity, uniqueness, emotion? I'm not too sure, but there was a definite lack of something at many of the Weddings I saw.
That was certainly not the case at Jade & Alex's Wedding. You could just tell these two share a bond that was absolutely bursting with love, devotion, and respect for one another. Their vows were heartfelt, honest, and damn funny! They elicited many a giggle from each other and their crowd of loved ones, including myself (who bounced between laughter and nearly shedding a happy tear many times!).
I don't really know if Peggy knew what was going on, but she sure as hell looked happy as Larry to be there.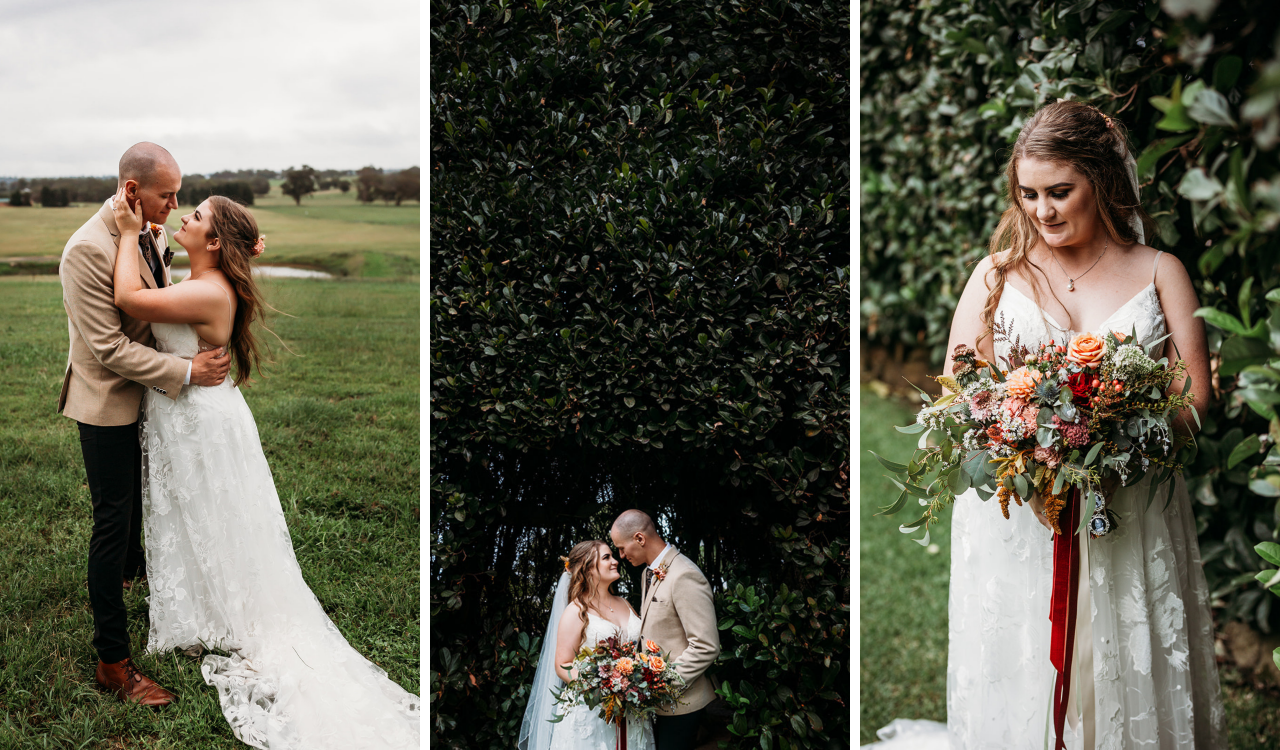 When their Ceremony ended, Jade & Alex made sure to use all the time they had with Peggy wisely, snapping ample 'happy family' moments of the three of them all basking in each other's company. Good thing their photographers thought she was just as cute as we all did!
Just as their Ceremony was coming to a close too, the clouds parted and the sun shone down brightly making for some seriously amazing photo opportunities for this wonderful couple and their cute-as-a-button Cavoodle.
Jade & Alex's big day with Peggy will certainly hold an extra special place in my heart, and I feel so grateful to have been able to share in such a perfect day alongside their family & friends.
A huge congratulations to Jade, Alex, and their adorable baby Peggy. Thank you so much for letting us play such an important part in the most important day in your lives!
All photos supplied by the seriously talented team at Margan Photography. Thank you for sharing these beautiful photos with us and allowing us to use them!