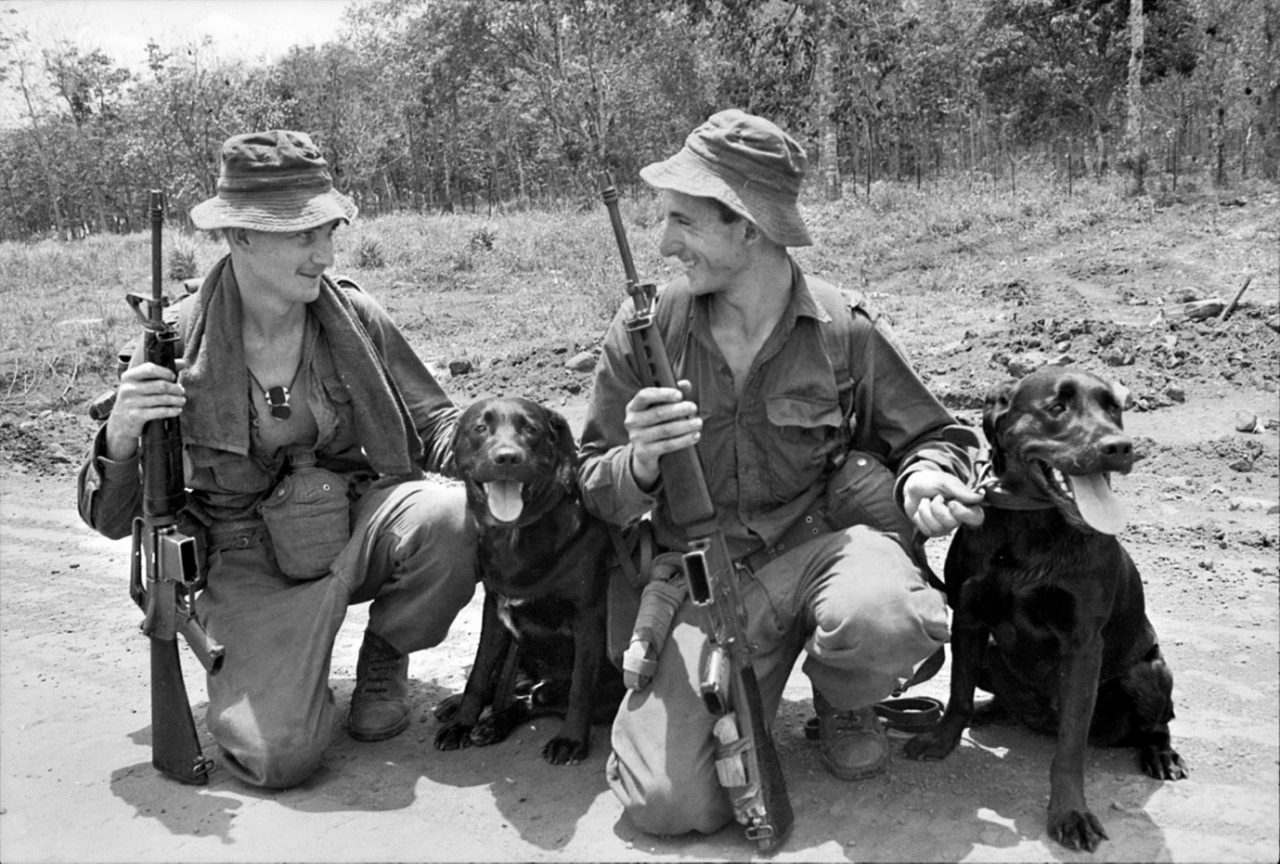 Our dogs are our beloved furry companions, but did you know that some of the most well-known breeds were trained to hunt soldiers in war?
Canines have served in mankind's war since as early as 600 B.C when the Lydian King deployed dogs to help break the invading army of Cimmerians.
In honour of ANZAC day and remembering the dogs who fought alongside men and women for our country, we take a look at the history of dogs in warfare and recall the special canines who served in mankind's war.
Early Canine Roles Within War
In the early days, canines were used to break up enemy formations, charging into the ranks and tearing down as many enemy soldiers as possible. Friendly forces would either attack the enemy just behind the dogs or would wait, letting the dogs spread chaos before the humans would attack with maximum force.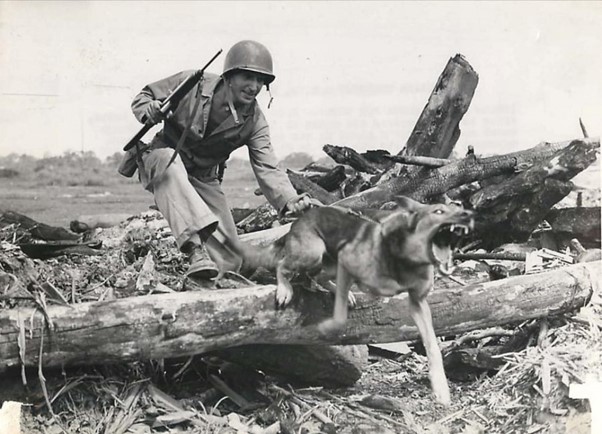 Modern Day Canine Roles
As warfare modernised, so did the service of dogs. They gained armour for avoiding injury in combat and breeders tailored new generations of dogs that were better suited for combat. Dogs were pressed into new roles, acting as messengers, patrols and scouts.
Common Breeds Used In Australian Military
The military has regularly relied on breeds like the Belgian Malinois, German Shepherd and Labrador in previous missions. The Belgian Malinois is a breed not as well-known as the German Shepherd or the Labrador, but is also commonly trained to herd sheep. All three canine breeds possess the speed, agility and sense of smell that are vital in war zones.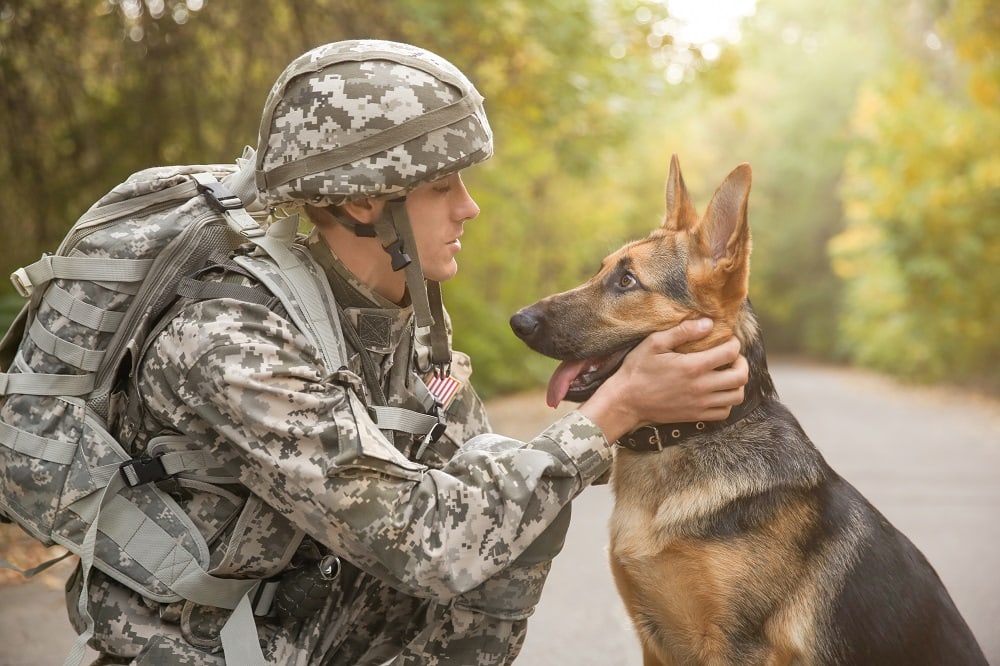 Height and weight: 22-26 inches, 50-90 pounds
Life expectancy: 12-14 years
Temperament: Confident, courageous, and smart
Fur Colours: Bi-Colour, Black, Black and cream, black and tan, black and red, black and silver, blue, grey, liver, sable, white
Originally developed by a German army officer specifically for use as a military working dog. The German army began utilizing trained German Shepherds as patrols, messengers, and ammo carriers in World War I. By World War II, other countries including the U.S. had recruited their own German Shepherds and the breed has served armed forces worldwide ever since. German Shepherds excel as military dogs because of their intelligence, loyalty, athleticism, and protective nature.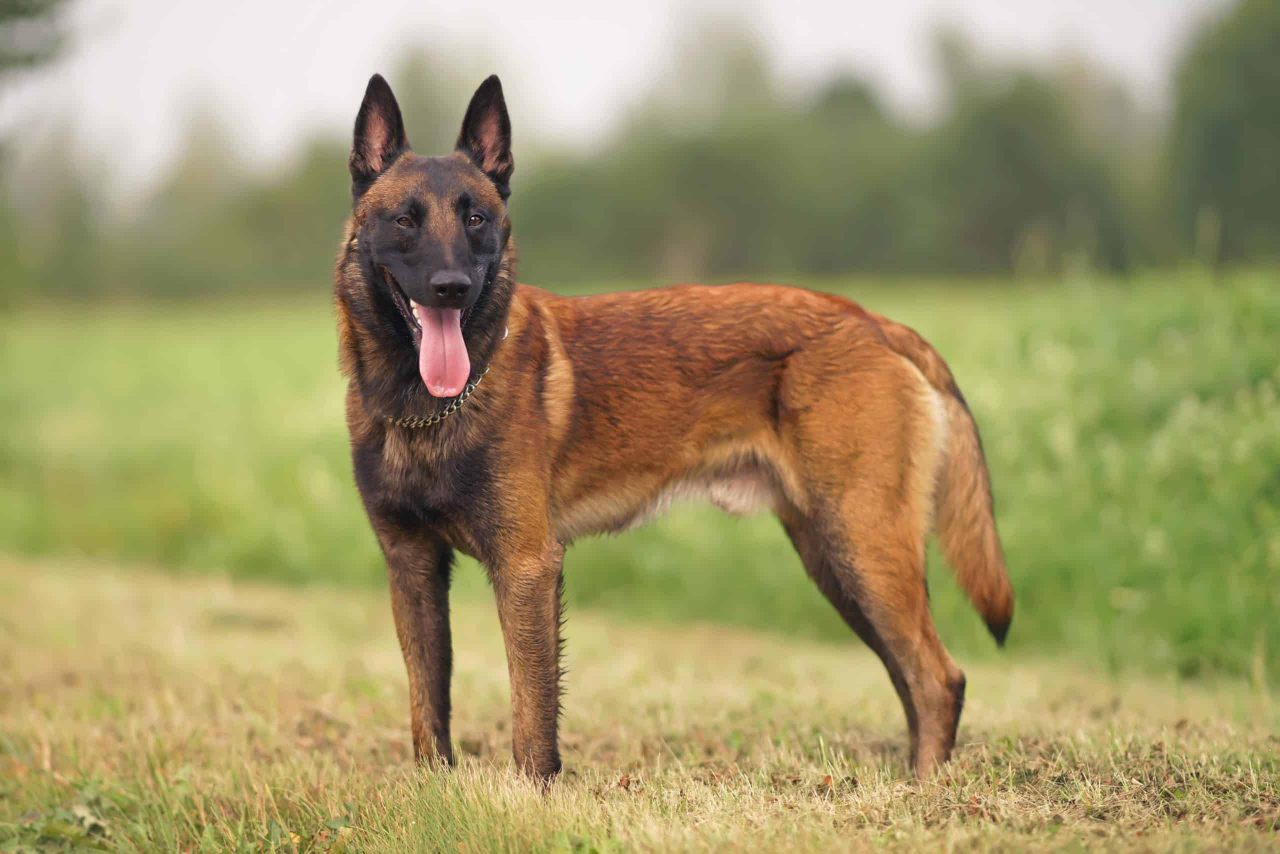 Height and weight: 22-26 inches, 40-80 pounds
Life expectancy: 14-16 years
Temperament: Confident, smart, and hard-working
Fur Colours: Fawn, fawn sable, mahogany, red, red sable
This high intensity breed first answered the call to duty in World War I, where they served as messengers and helped find wounded soldiers left on the battlefield. Today, Belgian Malinois are widely utilized by the military as all-around working dogs. Like German Shepherds, the Belgian Malinois is intelligent and athletic with an intense, aggressive demeanour well-suited to military usage. Belgian Malinois are the preferred military working dog to deploy with elite units for example Navy SEALS because they are lighter in weight than German Shepherds and able to parachute more easily.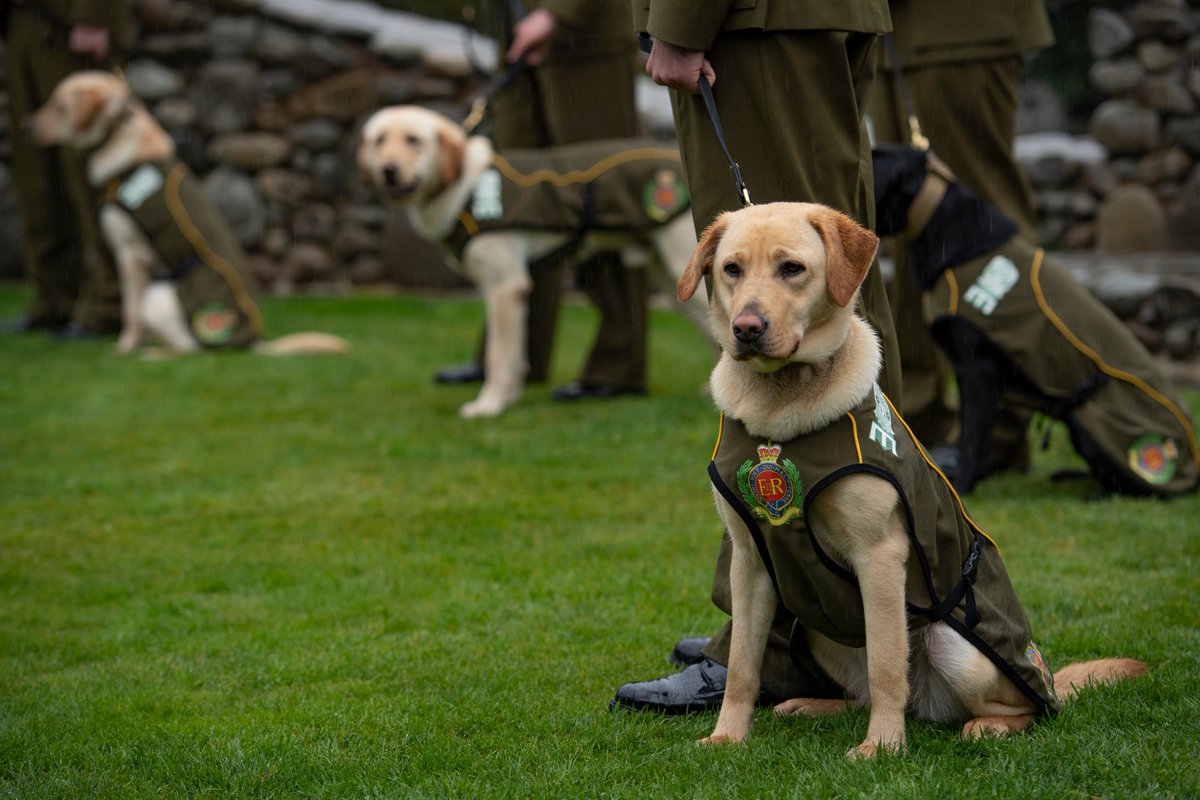 Height and weight: 21.5-24.5 inches, 55-80 pounds
Life expectancy: 10-12 years
Temperament: Friendly, active, and outgoing
Fur Colours: Black, chocolate, yellow
Bred to use their noses as hunters, Labrador Retrievers also utilize their incomparable sense of smell as military working dogs. Labradors are heavily relied on by the modern military as specialized search dogs, sniffing out explosives alongside their human handlers. Likeable, smart, and highly trainable, Labradors are also used as combat stress control dogs. Their happy tails and friendly faces can be a welcome relief for soldiers during long, intense deployments.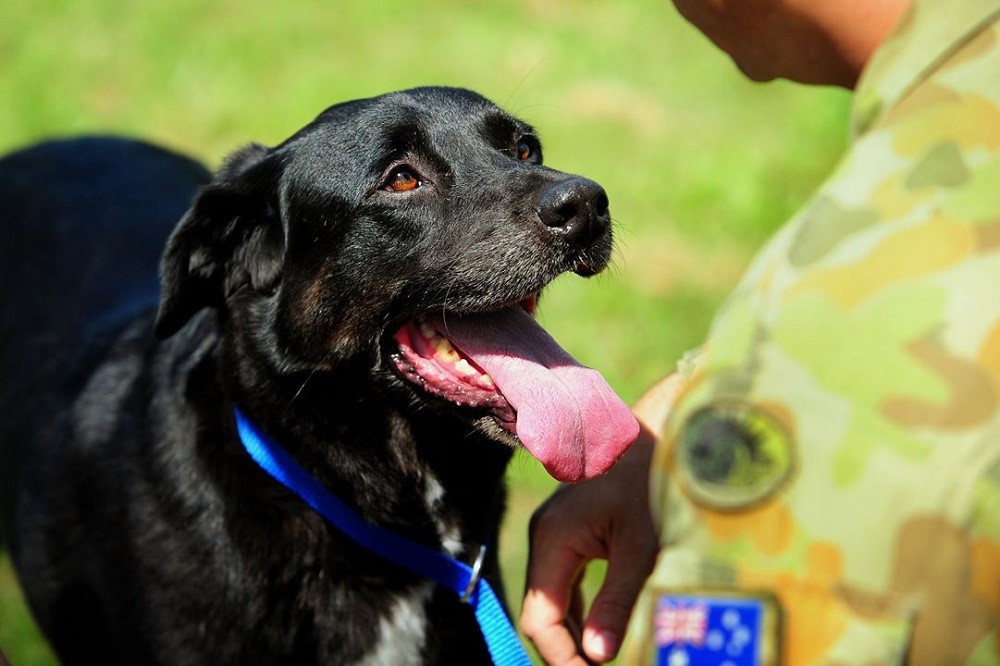 Breakthrough Within The Army Policy & Finding a Forever Home after Serving
Many of the stories involving dogs who served detail the close attachments formed between animal and soldier, and the sorrow of soldiers leaving their beloved furry companion behind when their time came to return home at the completion of their one-year deployment. It was previous Australian Army policy that dogs who served in overseas missions not be brought home at the end of their service.
Once their service came to an end in Vietnam, the fate of Australia's war dogs caused significant concern in Army circles and anguish to their soldiers. Unlike their human counterparts, the length of duty for a tracker dog was around three years (at least one year too long, according to many handlers). This made it impossible for the dog to return to Australia when their handler's deployment ended. The main reason for keeping the dogs 'in country' was the Army's reluctance to cover the quarantine costs involved in returning the dogs to Australia.
After much discussion about the issue, and with the matter having been raised in Parliament, the Army decided in 1968 that at the end of their working lives, the dogs would be kept by the battalion as a reserve, then given as pets to European or Australian families' residents in Saigon. Only as a last resort, if no home could be found, would they be euthanised. In the event, none of the 11 dogs who served in Vietnam were put down, with homes being found for the ten who survived. (One dog, Cassius, died of heat exhaustion after a training run.)
After a lapse of some years, tracker dogs are again serving with Australian forces on peacekeeping and other missions overseas. The dogs are now brought back to Australia at the end of their service.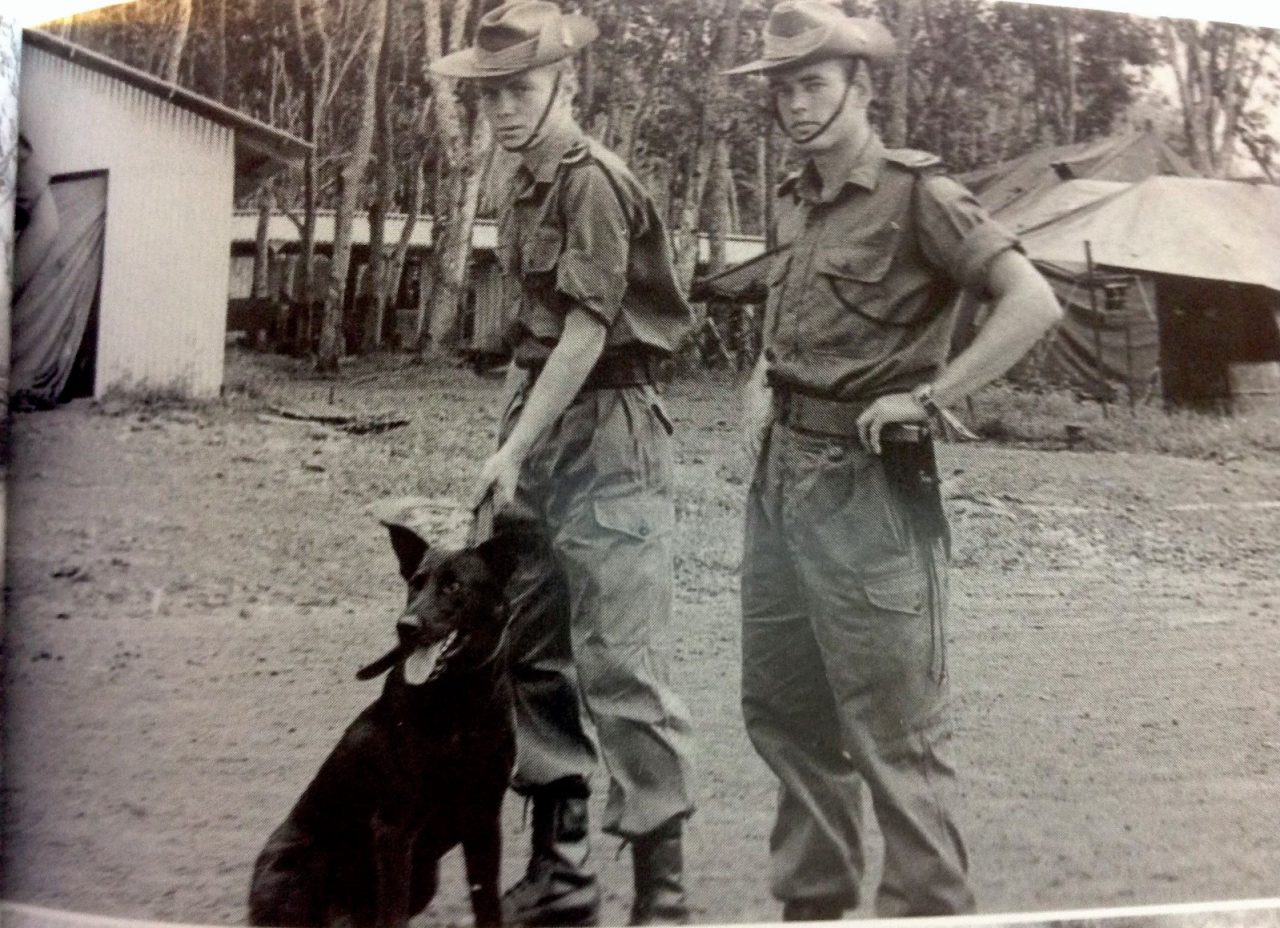 Vietnam Mission: A Day in the Life of a War Dog
Dogs were the core of Combat Tracker Teams that were used from 1967 until the last combat troops left in late 1971. Trained from the young age of roughly 10 months at the Tracking Wing of the Ingleburn Infantry Centre, NSW, two dogs were assigned to each of the Australian divisions based at the Task Force base at Nui Dat, in Phuoc Tuy Province. The dogs were used Full-time in Vietnam from late 1967. Housed in kennels at Nui Dat, the dogs' lives followed an established routine. They were groomed, checked every day, and taken outside the base perimeter for training runs on tracks set through the bush.
Did you know… During the canine training runs, South Vietnamese soldiers were usually used to set scent trails, so the dogs could get used to following their distinctive smell.
Each Tracker Team consisting of the two dogs and their handlers, two visual trackers, and two cover-men (a machine-gunner and a signaller) operated on standby out of Nui Dat. Usually called out to follow up enemy trails or to locate suspected enemy hideouts. The teams would be airlifted by helicopter into the area of operation. The dogs loved these helicopter flights, finding the cool air a relief from the oppressive tropical heat. Once on the ground, the dog would be put on to the scent of fleeing enemy. The dog would follow the scent, usually at speed, until a location was found, when he would stop with nose or paw extended in a 'point', facing the suspected hideout. The tracker and dog would then fall back while the rest of the section searched the area, often finding wounded enemy or recently occupied bunker systems that would otherwise have been missed.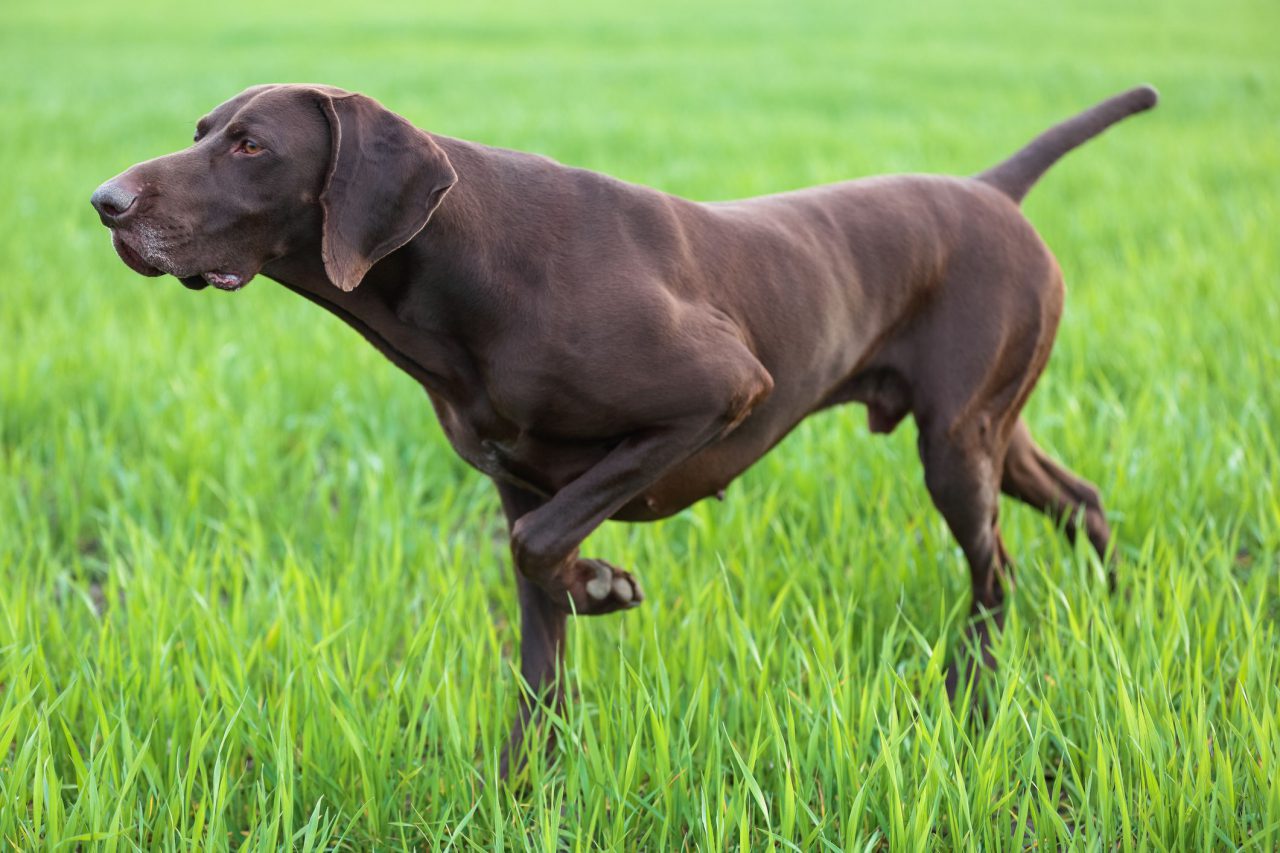 The dogs were outstandingly successful at their combat tasks in Vietnam. Apart from their success in locating enemy and their support systems, the dogs saved the lives of their handlers and team members on many occasions. Although not trained to detect mines, the dogs were intelligent and sufficiently well-trained to do so.
Handler Peter Haran summed up his dog's worth: Caesar … could see, smell and hear Charlie slang term for Viet Cong, from the military phonetic alphabet for the letter's 'V' — Victor and 'C' — Charlie long before we walked into a firefight. He knew where the mines were, where the trip wires were strung, and he could cover ground chasing the enemy at speeds which literally took your breath away.
Lest We Forget
They shall grow not old, as we that are left grow old;
Age shall not weary them, nor the years condemn.
At the going down of the sun and in the morning
We will remember them.
– Laurence Binyon