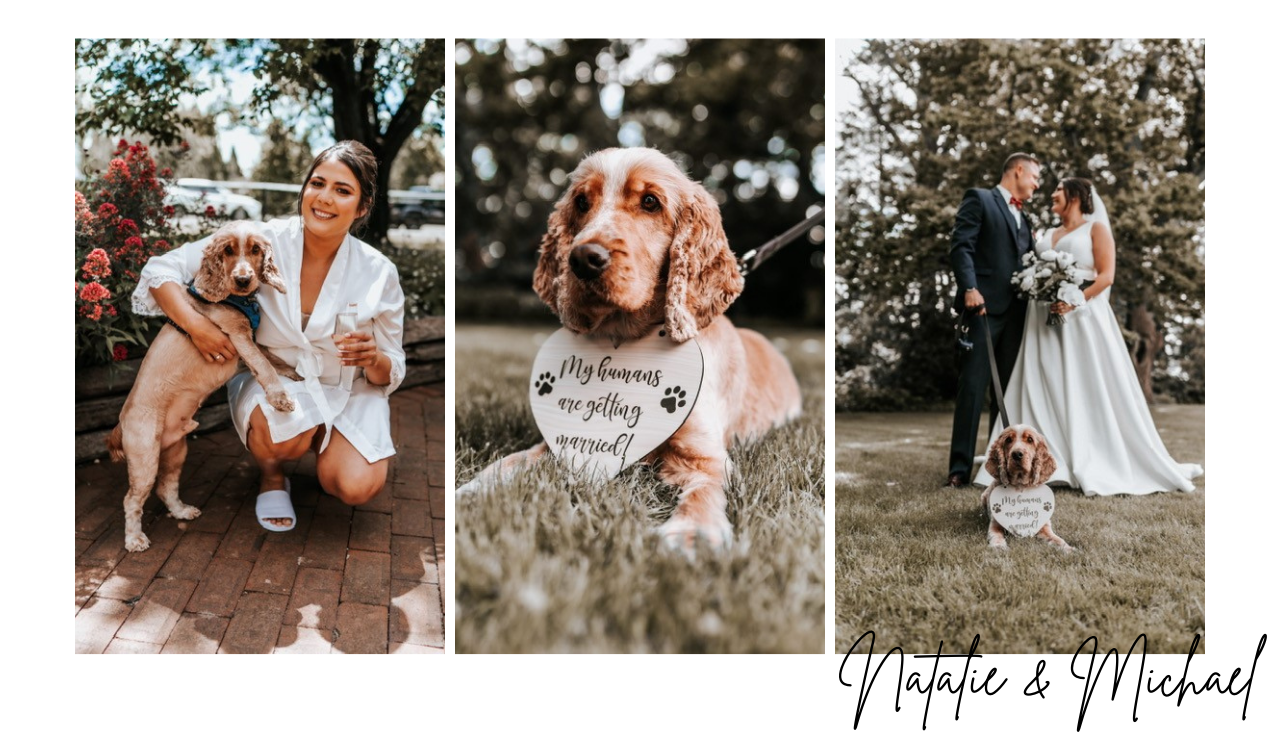 Thursday, 18th November 2021
Natalie & Michael's Wedding was really something special. We'd been communicating with Nat since March about the best way to incorporate their 2.5 year old Cocker Spaniel, Rufus, into their big day.
Nat & Mike had been together 12 years, and settled in Australia from the UK just 6 years earlier. Their family and many of their friends were still in the UK, so with the pandemic putting uncertainty on which of their loved ones will be able to attend, it was important for Nat & Mike to ensure their little guy Rufus wouldn't miss out on the most important day in their lives.
We'd dealt with Nat and heard about Rufus a lot in the months leading up to the big day, so we were thrilled to finally be meeting this wonderful couple and their beloved dog.
The day itself was simply magical; in a Spring/Summer season dampened by a very wet and soggy La Niña, Natalie & Michael could not have been more lucky with their wedding day weather.
The sun was bright and warm but not uncomfortably hot. Bendooley's gardens were exploding with brightly coloured flowers and the grass was luscious and green. We were well and truly blown away – it was like something out of a movie scene! With all the hysteria and uncertainty that the pandemic may have brought in the lead-up to Nat & Mike's big day, Mother Nature was certainly on their side.
We met Nat and Rufus in Bendooley's onsite pet-friendly accommodation, where Nat was getting the final touches done before her and her bridesmaids made their way to the homestead at the Ceremony garden.
Guests began to arrive, which Rufus was more than happy to greet with a big smile and waggy tail. Mike arrived soon after, just as delighted to see Rufus as he was to see him.
Nat & Mike had made the decision to not include Rufus in their Ceremony; he was quite the Mummy's boy, and they were concerned he'd be unable to contain his excitement had he have been part of it, so we watched on from the back of the gardens.
Once the Ceremony ended, we regrouped with Nat & Mike and their guests, and once again Rufus was gushed over and received plenty of pats and cuddles.
Nat & Mike made a few FaceTime calls with some of their beloved family members and friends who unfortunately couldn't make it over from the UK. The energy and excitement was high as we heard many a 'Congratulations!' come from the phone speaker, to which Nat & Mike returned a handful of 'Thank you!', 'We miss you!' and 'See you soon!'s in return. It was a sweet and surreal moment to see those happy faces watching on from the other side of the world.
We snapped a few photos with Rufus before Natalie & Michael left to enjoy the festivities with their guests, and returned to the on-site accommodation with Rufus.
Nat & Mike had engaged us to spend the evening with Rufus while they celebrated with their family and friends at the Reception. Rufus slept throughout most of the evening – exhausted after all the festivities of the day, we're sure!
The newlywed couple returned to the accommodation with their Bridal Party around midnight, clearly exhausted after dancing the night away but on a high after the day's events.
It was our turn then to say goodbye, and with a quick pat for Rufus, we left the group to begin our descent back to Camden.
The day sure was a fairy-tale from beginning to end, and one that we feel so lucky to be a part of!
Congratulations Natalie & Michael and we wish you both a lifetime of wedded bliss!